Bethesda pulls its games from Nvidia's streaming service GeForce Now And customers are not happy.
Bethesda has pulled its games from GeForce Now, Nvidia's streaming service.
In a post on the Nvidia forum, a company representative provided a list of all the Bethesda games that left GeForce Now yesterday – and only Wolfenstein Youngblood survived the cull.
Here's the list:
Dishonored
Dishonored 2
Dishonored: Death of the Outsider
Doom
Everspace
Fallout 3
Fallout 76
Fallout: New Vegas
Prey
Quake Champions
Rage 2 (Bethesda.net / Steam)
The Elder Scrolls Online: Elsweyr
The Elder Scrolls V: Skyrim
The Elder Scrolls V: Skyrim Special Edition
The Evil Within 2
Wolfenstein II: The New Colossus
Wolfenstein: The New Order
Wolfenstein: The Old Blood
After years in development, Nvidia's GeForce Now service is finally available to all users, and Nvidia has declared one million people have signed up. Hosting PC games in the cloud, GeForce Now ties into your existing PC library across a range of online storefronts, allowing you to play your games on computers, smartphones and tablets.
GeForce Now previously ran on a beta basis, with users required to sign up and wait for access to the system. This delay on using the service has now been lifted, with Nvidia offering two access tiers to the system: the free offering lets users access the cloud system for a session of up to one hour – good enough for a game of Fortnite (apparently the most popular game). After that, there's nothing stopping the user from starting another session, though if the servers are fully occupied, a wait may be required.
Then there's the Founder's Edition tier, priced at £4.99 / €5.49 / $4.99 per month for the first 12 months – with the first three months free via a trial. Founders get to jump the queue for server availability and can also access hardware-accelerated ray tracing features in supported games. (Digital Foundry has more here.)
It seems the Founder's Edition trial is causing issues with publishers whose games are on GeForce Now. Last week Activision Blizzard pulled its games from the service after what Nvidia called a "misunderstanding".
"Activision Blizzard has been a fantastic partner during the GeForce Now beta, which we took to include the free trial period for our founders' membership," Nvidia said.
"Recognising the misunderstanding, we removed their games from our service, with hope we can work with them to re-enable these, and more, in the future."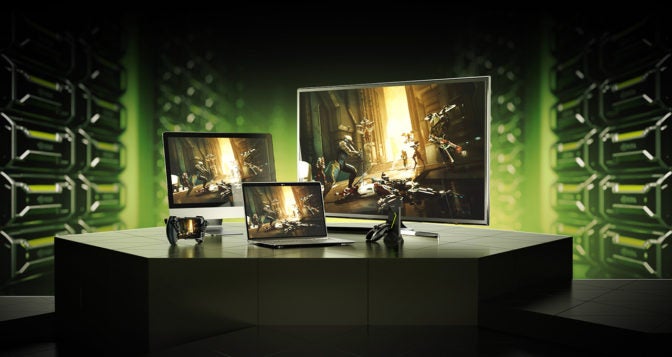 Nvidia has yet to provide a statement on the removal of the Bethesda games specifically, but did publish a blog post this week warning more games may leave the service as it transitions from the free trial to the paid membership.
"This trial is an important transitional period where gamers, developers and publishers can try the premium experience with minimal commitment while we continue to refine our offering," Nvidia said.
"As we approach a paid service, some publishers may choose to remove games before the trial period ends. Ultimately, they maintain control over their content and decide whether the game you purchase includes streaming on GeForce Now. Meanwhile, others will bring games back as they continue to realise GeForce Now's value (stay tuned for more on that).
"As the transition period comes to completion, game removals should be few and far between, with new games added to GeForce Now each week."
However, Nvidia's blog post has done little to calm angry customers who have seen a raft of games leave GeForce Now in recent weeks. Nvidia's forum is littered with angry messages from subscribers who are threatening to ditch the service.
"If things don't get better soon I'm just going to wait for my free trial to expire then I'll cancel it and that's it," wrote user omitaunmotan.
"I know it's not their fault, but I'm out," wrote Goompro. "This is madness."
"Well that was a quick death," said DeadPhoenix86. "I was mostly playing Doom on the go. But now that they have removed that as well. I guess I'll just ask for a refund instead. Seems like cloud gaming isn't the future anytime soon if they keep pulling games."
Eurogamer was contacted by one angry customer who complained about the lack of an explanation from Nvidia. "I keep buying games from their platform and the day after they are gone," they said.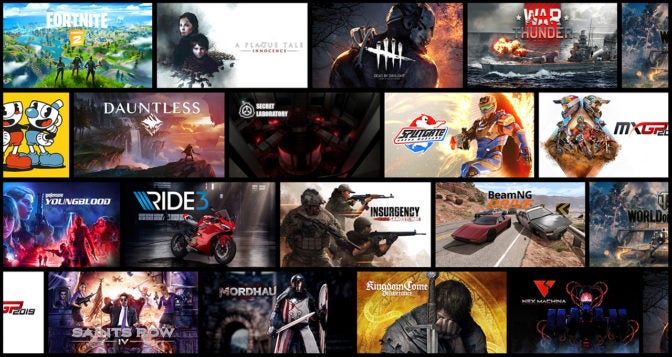 An Nvidia rep took to its forum to try to calm the anger among its community.
"Yes, we know the recent game removals are disappointing," wrote the Nvidia staff member.
"We're disappointed, too. In an ideal world, every game would be playable on GeForce Now, and that's the kind of world we're working toward. But the reality of the situation is that this is a new area in gaming: cloud streaming. There are both technical and business hurdles that must be cleared when we're bringing a game to the service. We're working to clear those hurdles in the background, but you won't see every part of that process. Please be patient. We're working hard to make as many games available as possible."