Database Is Corrupted Restart PS4 – How To Fix
Seen the message The Database Is Corrupted Restart The PS4 or want to know how to fix corrupted data on PS4? The PS4 corrupted database error is an issue that a lot of you have probably encountered in the console's near-seven years on the market. This is slightly more pressing that having your save data corrupted in a specific game, as the PS4 has to go through the laborious process of rebuilding the database.
The Database Is Corrupted PS4 – How To Fix
---
So, just why does this happen? There's a few reasons. One is probably something you've done a few times (I know I'm guilty of it when I'm in a rush) and that's turning off the PS4 without shuttering it down properly. This involves switching it off at the mains without powering down in the usual fashion by selecting 'power off' in the menu.
Another involves shutting down your console without exiting the game, but it could also related to a faulty hard drive.
How To Fix Corrupted Data On PS4
---
First of all, switch off your PS4 (properly!) for about 20 minutes. Afterwards, you'll need to boot up your system again in Safe Mode. Once the console is turned off, hold down the power button until you hear two beeps. This process usually takes about 7-15 seconds, and will then activate Safe Mode.
If you're having problems doing this, then hit up this handy guide on YouTube. Next, make sure a DualShock 4 controller is connected via USB cable and select 'Rebuild Database' from the menu.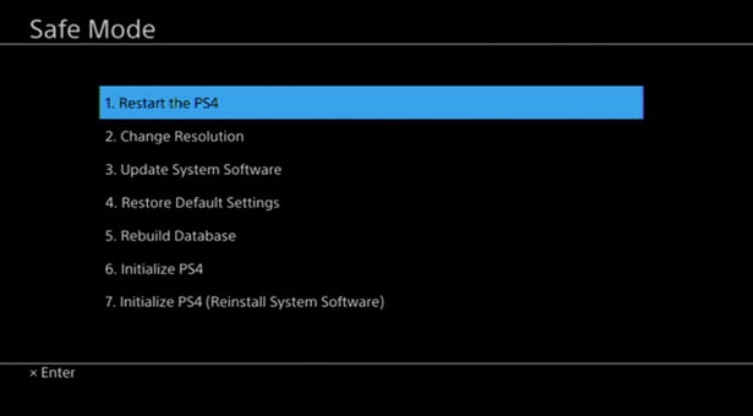 Rebuilding the database is a lengthy process, so be patient. Once the database has been rebuilt, you should be good to go. Note that doing this will not lose any of your games or DLC installed on your PS4, so don't worry about that.
It should also be noted that rebuilding your PS4 database has a great many benefits beyond fixing this problem, including smoother running of games if they're lagging or if your console is having problems reading a disc.
Other PS4 Errors & How To Fix Them